Japanese, English, Chinese, Korean, French, German, Spanish, Italian,
Portuguese, Russian and other major languages.
*We also handle Vietnamese, Thai, Indonesian and other Asian languages. Ask us!

Use interpreters in the following types of situations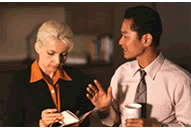 ・Interpretation of international conferences
 ・Booth interpretation and receptions at trade fairs,
etc.
 ・Interpretation of business meetings, conferences,
and with foreign clients
 ・Overseas business trips, inspections
 ・Events such as lectures and panel discussions
 ・Telephone call from overseas
 ・Recording of foreign-language narrations

  *Please ask us. We handle interpretation work in many different settings.

Venue management for international conferences


arranging the venue, microphones, simultaneous interpretation facilities, and refreshments.

Narration recording


Recording narration in studio based on a prepared manuscript. We can deliver either digital data or tape.
  Project Flow
Contact us through our online Web form (Japanese Only), or by telephone. One of our translation coordinators will be happy to discuss your project and answer your questions.

 

Personnel selection
Estimates

Careful selection of personnel in line with your requirements, and creation of estimate.

Customer Confirmation

Please provide materials in advance, to allow interpretation to proceed as smoothly as possible. We can also set up an orientation based on a face-to-face meeting with an interpreter (fees will apply).

Dispatch interpreters to a specified location, at the specified time.

 

Payment

 
Collect feedback from clients after interpreter dispatch; perform an assessment of the interpreter's skills.